Being "Reliable" is a standard we work to achieve every day.
From do-it-yourself homeowners to trained service professionals, we are working hard to be your trusted provider of quality appliance, heating, and cooling parts. Our personal approach to every customer is what sets us apart in the industry, and, we're committed to maintaining that standard.
Our extensive distribution network in the United States and Canada benefits the clients we serve. Shipping more than 10,000 orders a day with a 97% fill rate, Reliable Parts has a track record of delivering orders correctly and on time – a level of service that is virtually unmatched in the industry.

In today's competitive marketplace, we understand that you need a supply chain that delivers. Every day our staff works with trade partners, large and small and from every corner of North America, to offer customized solutions that work for your business. After all, our success is based on your success and satisfaction. That's why we strive to earn your business every day.

At Reliable Parts , we provide you with quick access to a wide variety of appliance parts & accessories at low prices. We ship all orders received by 4:00 PM the same day from our distribution centers or your nearest branch through a variety of options that make it convenient for you to receive what you want when you need it.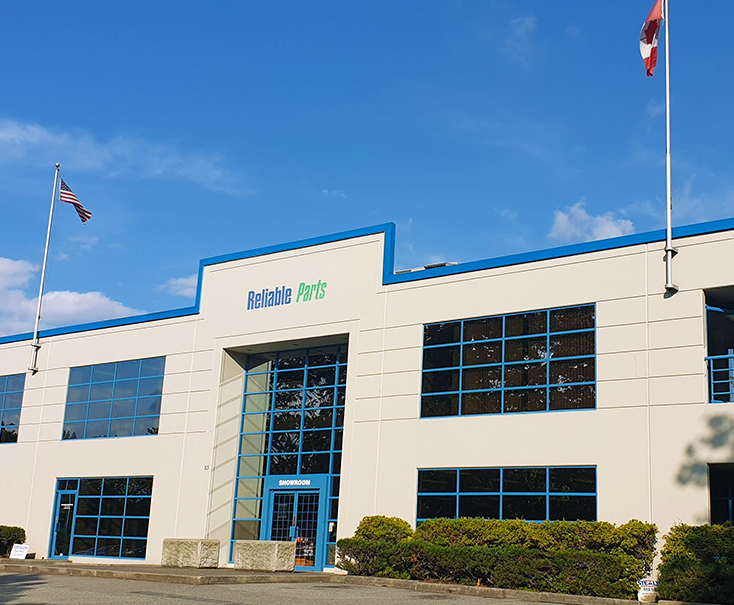 Reliable Parts has 64 branch locations and 8 distribution centers across North America. The United States market is served by 34 branch locations in major cities across the US with four Distribution Centers; Seattle, Sacramento, Dallas, and Indianapolis with our US Head Office in Dallas, Texas. Our Canadian market is served by 30 branch locations across Canada with four Distribution Centers; Toronto, Montreal, Calgary, and Vancouver with our Canadian Head Office in Coquitlam, British Columbia. All our branches are located for convenience and contain showrooms effectively displaying our most popular appliance parts and accessory items.
Reliable Parts was established in 1933 and has evolved into one of the largest and most respected appliance parts distributors in North America. We have received many awards for service excellence over the years from the major appliance manufacturers we represent. One of our proudest achievements was to be recognized by Arthur Anderson and the Financial Post as one of "Canada's Fifty Best Managed Private Companies". 
Although a mature company with experience, our outlook is young as we face the challenges of the future with excitement. We are continually striving for improvement and efficiency in our business methods so that we always provide you with the highest level of customer service. Your feedback is important to us, so please let us know how we can serve you better at Reliable Parts. We are eternally grateful to our customers who support us and continually help us grow in our ability to serve you better.
Thank You!